Migrant workers living conditions 'appalling'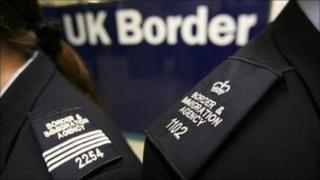 Migrant workers in Cornwall have been found living in "appalling conditions", according to Devon and Cornwall Police and the UK Border Agency.
The two agencies are now working together to prevent cramped and dangerous housing.
Devon and Cornwall Police have reported some cases where 10 people were found living in a two bedroomed house.
Landlords and employers who exploit foreign workers in Cornwall are being warned to clean up their act.
Illegal workers usually end up being deported, but the agencies said they had a duty of care to anyone living in the county.
In 2011 the agency deported about 200 illegal migrant workers living in Cornwall and Devon.
Reaching workers
Bev Faull, a migrant worker PCSO for Devon and Cornwall Police, said: "I wouldn't expect my children or any of my family to live like this.
"Why do other human beings think it's acceptable when it is not."
Devon and Cornwall Police are working closely with the UK Border Agency on raids in the county.
Ben Chacksfield, an immigration officer with the agency, said: "One example is going into a certain property in Cornwall when we found up to 10 people living in a two bedroomed property.
"We found mattresses and cardboard boxes on the floor where people really would just sleep in appalling conditions."
Devon and Cornwall Police said it was now using social media to reach migrant workers who might otherwise be wary of officials or experience language barriers.