Cornish Pasty Festival held in Redruth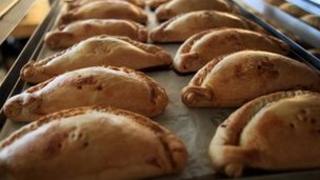 The UK's first Cornish pasty festival is being hosted in the county.
The three-day event in Redruth is a celebration of Cornwall's traditional meat and potato pastry covered snack, as well as the county's mining roots.
The Cornish pasty is said to have been created to meet the needs of Cornish tin miners, allowing them to enjoy a hand-held, hot meal at work.
The festival will feature walks and entertainment, and a service later on Friday to remember fallen miners.
On Saturday there will be a pasty masterclass for youngsters.
Mexican connection
On Sunday a special memorial walk will take place around Carn Brea in Redruth, to remember miners who lost their lives in the often dangerous tin-mining industry.
The festival will also highlight Cornwall's links with Mexico.
They date back to when migrating Cornish miners took their expertise and traditions, including the Cornish pasty, to new mining regions around the world.
Redruth will welcome seven Mexican representatives, who also host a similar pasty festival every year.
Redruth town development manager Lee Dunkley said: "Redruth's Miners' Day and Memorial Day have continued to remind us of our mining heritage, along with the part the town played during the booming mining heyday.
"We believe that the Cornish Pasty Festival will become an annual event attracting locals and visitors to the town centre, making this an extended cultural weekend for all the family."
In April about 600 people marched through Falmouth to protest against the government's so-called "pasty tax".
The plans to levy VAT on warmed Cornish pasties and other baked goods were later dropped.