Serco out-of-hours Cornwall GP records falsified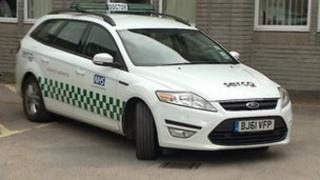 Computer records on callouts by Cornwall's out-of-hours doctors service were falsified to make the service appear faster, it has emerged.
An internal investigation by Serco found 252 of 107,000 records between January and June 2012 were wrong.
Serco, which has run the service since 2006, has apologised to NHS managers.
The firm also said it was not short of doctors after a separate independent review said it should recruit more to keep the service safe.
The internal investigation followed concerns that Serco was falsifying records to meet targets, and an investigation by the Care Quality Commission (CQC).
Serco said the data on 252 call-outs "either did not match, was inconsistent, or had been changed".
Paul Forden, managing director of clinical health, said that when a GP went to a callout they completed two records; a driver's log and a code on their computer saying they had arrived at the patient's house.
Mr Forden told BBC Radio Cornwall: "What some staff did was take the shortest time of the two, sometimes a matter of seconds.
"It's unacceptable, and for that we have apologised to the PCT."
Steve Moore, chief executive of Cornwall and Isles of Scilly PCT, which commissions the service, said: "I was disappointed to learn that some of the data we received to measure performance was inaccurate, although the number of inaccurate records was small.
"I am clear that Serco did not gain from these actions."
The NHS will now carry out independent validation of Serco's report which will be repeated in six months.
Andrew George, Liberal Democrat MP for St Ives, said: "Serco knew it was under scrutiny by the CQC so it would have been on its best behaviour. I am not fully reassured."
An independent report commissioned by the PCT said the service run by Serco was safe and effective.
But it said Serco must recruit more doctors to maintain safety.
Serco said it had a team of more than 180 doctors, 50 other clinicians and about 140 support staff.
Mr Forden said: "We said a number of months ago that we had some issues with recruiting and we said we were putting some initiatives in place to increase that recruiting.
"We now have enough doctors and nurses to take the service forwards."