Cornwall petitioners hope for 5,000 signatures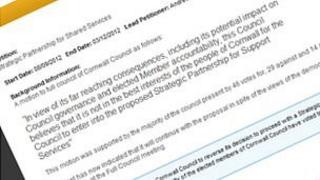 Organisers of a petition against plans to privatise some of Cornwall Council's services say they hope it will get 5,000 signatures so it can be discussed again.
Services including libraries, payroll and benefit payments face being run by outside companies after a tendering process for work worth £300m a year.
The council's cabinet said the proposals could not be reversed.
Organisers of the cross-party petition said the cabinet was being arrogant.
'Undemocratic' proposals
The privatisation, which the cabinet of the Conservative-Independent led unitary authority said would be part of a "strategic partnership", could affect up to 1,000 council staff.
A report to Cornwall Council Cabinet claimed the contract would save at least £2.5m a year.
Councillors voted 46 to 29 to postpone the move during a debate two weeks ago, but cabinet members said they would press ahead.
Members of the county's Labour party were collecting signatures for the petition - started by independent councillor Andrew Wallis - in Falmouth on Saturday.
Starting the petition, Mr Wallis said the proposals should be halted "until such time the majority of the elected members of Cornwall Council have voted to support the proposals".
He said the cabinet was being arrogant by "ignoring the will of the elected majority of Cornwall Council".
The council's website confirmed petitions had to be signed by 5,000 people or more if they were to be debated by the full council.