Isles of Scilly 'needs' year-round transport links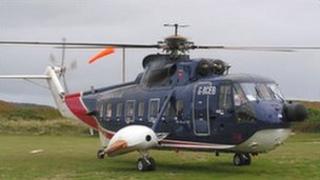 Residents on the Isles of Scilly have said transport links need to be improved to the islands when a year-round helicopter service ceases.
British International Helicopters (BIH) will stop its service on 31 October after running into financial problems.
The Scillonian ferry runs for only seven months a year and the only other link, Skybus, is weather- dependent.
Councillor Michael Hicks said the island had come to a "crossroads" and the situation needed to be addressed.
Legal challenges
Mr Hicks, chairman of the Isles of Scilly Council unitary authority, said: "We've really got to look at the future as far as transport between the mainland and the Isles of Scilly are concerned.
"I think they've really got to look at providing a winter service of some sort."
BIH decided to end its service after legal challenges, directed at Cornwall Council, delayed its plans to sell the Penzance heliport site to Sainsbury's and meant it could not access money.
Cornwall Councillor Chris Ridgers, who is responsible for economy and regeneration, said: "We have made attempts to alter their [BIH] thinking but they have re-confirmed that that is their decision.
"We are talking to other potential providers of the helicopter service but it maybe some time before we're able to make any public announcement."
Cornwall Council said it could not consider running the heliport and service, despite running Newquay Airport.
Marian Bennett, who set up Friends of Isles of Scilly Transport, said the islands needed the same help given to Scotland's islands where local ferries were subsidised.
She said: "Nearly all the islands have a very regular, affordable service. For example Islay, which is the most comparable to Scilly, has a service two or three times a day every day of the year and they travel for a cost of about £12.50 return, whereas our cost is £85 return."
The council, along with Penzance Town Council, is also trying to finalise plans for an £8m re-vamp of Penzance Harbour as part of securing a sea-link to St Mary's.
Both authorities need to agree on the plans and submit them to the Department for Transport by Friday to qualify for funding.
Phil Rendel, mayor of Penzance, said the councils were "not of the same mind", which needed to be addressed "immediately" to meet the deadline.