Petition against part-privatisation of Cornish services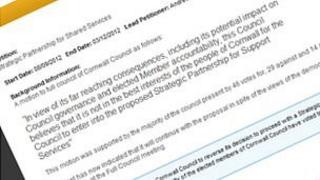 A petition has been launched by councillors calling for plans by senior members of Cornwall Council to part-privatise some services to be stopped.
Services including libraries, payroll and benefit payments face being run by outside companies after a tendering process for work worth £300m a year.
Cabinet member Steve Double said last week the move would not be reversed.
Councillors who started the petition said a majority needed to support the proposals before their approval.
Cabinet 'arrogance'
The privatisation, which the cabinet of the Conservative-Independent led unitary authority said would be part of a "strategic partnership", could affect up to 1,000 council staff.
A report to Cornwall Council Cabinet claimed the contract would save Cornwall Council at least £2.5m a year.
Councillors voted 46 to 29 to postpone the move during a debate last week, but cabinet members said they would press ahead.
The petition, started by independent councillor Andrew Wallis, said the proposals move should to be halted "until such time the majority of the elected members of Cornwall Council have voted to support the proposals".
Councillor Wallis said it was created because of the cabinet's "arrogance of ignoring the will of the elected majority of Cornwall Council".
Final approval of any successful bid would be given by council's chief executive, in consultation with the council leader and various cabinet members - including those for environment, waste management, shared services and human resources - the council said.