Radon link to Devon and Cornwall skin cancer investigated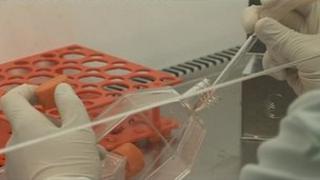 Scientists are investigating whether high levels of skin cancer in Devon and Cornwall have a link with radon gas.
Radon is a naturally occurring gas found most often in areas with a large amount of granite.
It can build up in unventilated buildings and has already been linked to lung cancer.
Scientists are acting on research that showed areas with the highest radon levels also had higher levels of squamous cell carcinoma.
The European Centre for Environment and Human Health, which is part of the University of Exeter Medical School in Truro, Cornwall, is experimenting with laboratory-grown human cells to assess their reaction to radon.
Researcher Aaron Robertson said: "We looked at about 300 post code areas. We found a link to suggest there being evidence for an increased risk of one of the types of skin cancer and an increased concentration of radon in the home."
The current advice is that when radon levels are 10 times the English average, of 21 becquerels per cubic metre, action should be taken to reduce the amount of radon in the home via radon sumps which channel the gas away.
His colleague Dr Alison Curnow said: "If we do see a link we would be saying to people in the South West that we need to be even more vigilant about protection measures than people living in other areas."
The Health Protection Agency (HPA) issued free radon tests for 7,000 homes in Cornwall in January after levels were shown to be 145 becquerels per cubic metre.
The HPA can send out radon detectors to any householders by post. They are returned after three months for a report, at a cost of £49.80.
Nationally, long-term exposure to the gas is believed to lead to more than 1,000 lung cancer deaths each year, said the agency.
According to the Skin Cancer Foundation, squamous cell carcinomas detected early are almost always curable but left untreated can become disfiguring and a small percentage can become fatal.