Solar park could make Newquay airport "UK's greenest"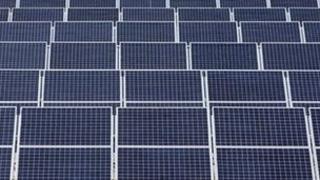 A new solar farm could help Newquay airport to become one of the "UK's greenest", its owners have said.
Kernow Solar Park is to be built on a site near Newquay in Cornwall and is expected to generate enough power to run 1,000 homes each year.
Producing an initial income of about £700,000, the 36 acre park will supply power to the national grid, but also to the council-owned airport.
It is thought to be the first council-owned solar farm of its size in the UK.
Plans for the five-megawatt park have been on hold since 2011, due to changes in the government's Feed in Tariff (FiT).
The recent drop in the price of large-scale solar panels means that the project can now go ahead.
The site will involve the installation of 20,400 panels.
Al Titterington, Newquay Cornwall Airport managing director, said the power supplied from the solar farm would "greatly assist the airport's aspiration to become one of the UK's greenest airports".
"We are current working towards certification through the Airports Council International (ACI) Carbon Accreditation Scheme and being able to source our electricity directly from the solar farm will dramatically reduce our emissions," he added.
Kernow Solar Park is expected to generate renewable electricity equivalent to almost 5% of the council's carbon footprint.