Cycle trail 'will ruin peaceful Lanhydrock'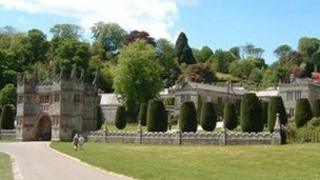 A new cycle trail at Lanhydrock House in Cornwall planned by the National Trust will bring an end to the "peaceful Lanhydrock people love", critics have said.
Plans for the cycling "hub" will see trees chopped down in order to create six miles (10km) of trails, as well as a new cafe and a car park extension.
The Save Lanhydrock campaign said the work would ruin the landmark.
The trust said it was trying to bring a "new audience" to the estate.
The late Victorian county house near Bodmin is set in 890 acres of land and had 210,000 visitors in 2010, according to figures from the Association of Leading Visitor Attractions.
'Passionate feelings'
The Save Lanhydrock group said the plans would attract an extra 70,000 to 80,000 visitors a year, bringing an increase in traffic.
Kath May, from the campaign group, said: "We think it will ruin Lanhydrock as people know it.
"There are also other cycle tracks in the area, such as the Camel Trail. Isn't that enough for this small area?"
House General Manager Rebecca Brooke-Sullivan said the cycling hub was part of plans to help secure the future of the "much-loved site".
She said: "It [the estate] stirs up passionate feelings, which is all to the good, because if it's not loved in the future it won't survive.
"What we want to do is break out the property for a new audience who will grow to love it as much as those who already enjoy it."
The trust is working on the project as part of the cycle-promotion partnership 1 South West, which also includes the Forestry Commission and local councils.
The scheme still has to be approved by local planners.
If approved, construction is expected to begin before the end of the year, 1 South West said.