Part-privatisation of Cornish council services 'will not be reversed'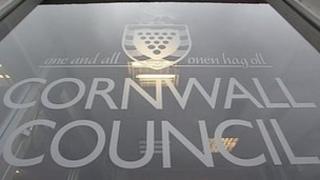 A decision to part-privatise some core services in Cornwall will not be reversed, a senior member of the county's unitary authority has said.
Services including libraries, payroll and benefit payments face being run by outside companies after a tendering process for work worth £300m a year.
Councillors voted 46 to 29 to postpone the move during a debate, but cabinet members said they would press ahead.
Cabinet member Steve Double said the move would help finances and services.
'Answering challenges'
The cabinet of the Conservative-Independent led council approved plans in July to put out invitations to tender.
The privatisation, which the cabinet said would be part of a strategic partnership, could affect up to 1,000 council staff.
At the meeting on Tuesday, opponents debated a motion saying members believed it was "not in the best interests of the people of Cornwall for the council to enter into the proposed strategic partnership for support services and procurement".
Of 89 members who voted in the motion, 46 supported it, 29 were against, and 14 abstained.
After the vote, Liberal Democrat leader Jeremy Rowe said critics of the proposals "cannot see how they [the cabinet] could choose to override the considered views of councillors as expressed".
He added on Wednesday that he was "appalled at this latest display of arrogance from the Conservatives at County Hall".
He added that "a select few tucked away in the top floor bunker in Truro have decided to ignore that clear view from the council and plough on regardless".
The Cabinet said that it remained committed to the programme.
Cabinet member for shared services Steve Double said it was essential that the move went ahead.
He said: "It answers many of the challenges in protecting front-line services, and making the savings we have to make."
A report to Cornwall Council Cabinet said the contract would save Cornwall Council at least £2.5m a year.
Final approval of any successful bid would be given by council's chief executive, in consultation with the council leader and various cabinet members - including those for environment, waste management, shared services and human resources - the council said.