Falmouth dredging trial 'won't show full-scale impact'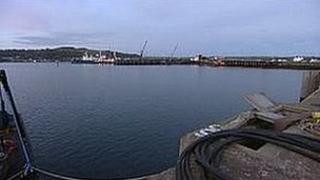 Campaigners against the dredging of a Cornish harbour say a small-scale trial of the process will not show the full potential impact.
Falmouth Harbour Commissioners have a £20m plan to dredge the harbour to encourage more cruise ship visits.
Environmentalists and fishermen said they were concerned fishing beds and a rare algae, maerl, would be damaged.
Scientists said the trial would give a "good understanding" of the effects of the full process.
Experimental dredge
The harbour commissioners want to use dredging to dig a deep channel to attract more ships.
They said the move would help to create 800 jobs.
However, protesters said they were worried about what dredging could mean for their livelihoods and local sea life.
Maerl is a calcified seaweed which only exists in a few coastal areas and can take thousands of years to form. It acts as a nursery for commercial fish stocks.
The Marine Management Organisation (MMO) halted full-scale dredging, saying it could harm maerl beds.
The six-month trial, due to start later this month, is to determine potential effects.
However, campaigner and marine biologist Dr Miles Hoskin said that the trial "won't represent the conditions of the full-scale dredge".
He said he was satisfied the trial would be carried out to good scientific standards, but added that "it doesn't mean it's going to be useful".
He said: "We believe that, more likely than not, the site will be significantly damaged.
"Given its short and small scale, the trial won't represent the conditions of the full-scale dredge."
Martin Attrill, Professor of Marine Ecology at the University Of Plymouth, said the trial would see maerl taken up from the seabed in areas "the size of a badminton court", resettled and then the impact judged.
He said: "It's the equivalent of a person being examined in an area of about two-and-a-half times the size of a football pitch.
"It will give us a good understanding of how the organism will react to this, and then we can extrapolate up to the bigger picture.
"You could make the areas bigger and bigger again, but you're not going to learn anything more."