Sea death of mother at beach near Bude: No lifeguard cover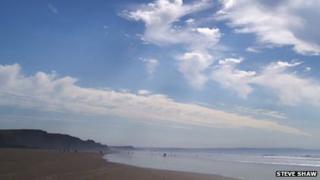 Lifeguard cover on a Cornish beach where a mother was fatally caught in a rip current had ended a day earlier.
The woman, aged in her 50s, and her two sons aged 11 and 13 got caught in a current off Northcott Mouth, near Bude, at about 14:00 BST on Monday.
Steve Instance, RNLI lifeguard inspector, said the "peak season" on some of the rural beaches had ended.
One of the woman's sons made it back to shore on his own and the other was rescued by two men.
The boys had been bodyboarding when they got into difficulty. Both were found to be unhurt after they were rescued.
It is not known if the family are local or were on holiday.
'Bad tragedy'
Mr Instance said: "We understand the boys got into difficulty but what led to the mother being in the water we can't say at this stage.
"This is the week when schools traditionally go back, some of the more rural beaches are only lifeguarded during the very peak periods of July and August.
"Unfortunately the lifeguard service had finished on Sunday and they chose to visit on Monday."
Mr Instance said it "could have been a different story" if lifeguards had been present.
He said: "We would not like to pre-empt exactly what would have happened during that scenario, we can only react to what has happened and clearly it has led to a bad tragedy."
The men who rescued one of the woman's sons from the water contacted emergency services and lifeguards from nearby Summerleaze Beach were alerted.
After arriving, the lifeguards recovered the unconscious woman from the water and performed CPR until a helicopter from RMB Chivenor arrived to take her to North Devon District Hospital, where she was pronounced dead.
Sgt Lynden Hughes, from Devon and Cornwall Police, said: "Had these two members of the public not done what they did, then we would have probably been looking at a more serious incident involving the young boy as well.
"They really did take their life into their own hands and assisted in the most admirable way."