Tombstoning warning signs put up by cliffs in Cornwall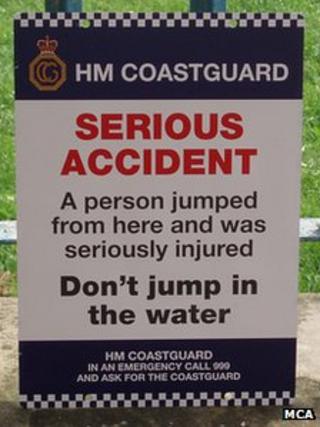 Warning signs are being displayed at tombstoning hotspots in north Cornwall in a bid to reduce serious injuries and deaths.
About 20 signs stating whether people have been killed or injured from tombstoning in the area will be put up.
The campaign by the Maritime and Coastguard Agency (MCA) could be introduced nationwide.
Tombstoning is when people jump unsupervised into the sea from places including cliffs and harbour walls.
Matt Pavitt, from north Cornwall MCA, said there had been a rise in the number of people tombstoning across the UK in the past two years.
"We want to try and raise people's awareness of the dangers and make them think before they jump.
"Tombstoning can cause injuries to limbs, the head, spine and can result in death."
There are currently 11 signs installed in the Newquay and north Cornwall area, with a further nine to go up during the next few months, he added.
"It's about increasing awareness, the tides change daily and you can often not see below the water.
"If there's a reduction in the number of people jumping in the sea from cliffs, piers and harbour walls it will be deemed a success," he said.
Across the UK in the past five years there have been 18 fatalities and 57 serious injuries from tombstoning, the MCA said.
As well as in Cornwall, the scheme is also being trialled in the north east of England and if successful will be rolled out across the country in 2013.