ShelterBox founder Tom Henderson 'removed' as CEO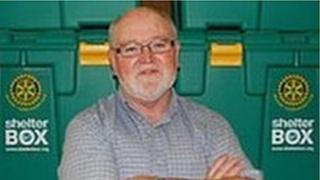 The founder of Cornwall-based charity ShelterBox has been removed from his position as chief executive.
In a statement, the charity said the decision to relieve Tom Henderson of his duties was "unanimous".
The reason for the decision has not yet been made public and ShelterBox would not comment further.
ShelterBox said an appeal continued, but it was looking for a new chief executive and John Leach, previously operations manager, would stand in.
The statement said: "The board of ShelterBox Trust can confirm that Tom Henderson is no longer CEO of ShelterBox.
"We can however assure everyone that our operations and day-to-day management continue unhindered."
Appointed OBE
The charity later added that no external organisation was involved in the decision and the situation had not been referred to the police.
The Charity Commission told BBC News it was not involved in any investigation into ShelterBox.
ShelterBox, which was the brainchild of Mr Henderson, delivers survival equipment in large green boxes to disaster areas around the world and is currently providing aid in the Philippines, Uganda and Lebanon.
Mr Henderson was appointed OBE in 2010 for services to humanitarian aid, 10 years after setting the charity up.
Earlier in the month it was announced that Jane Henderson, Mr Henderson's wife, had died of a suspected heart attack aged 59.