Isles of Scilly school audit findings may be made public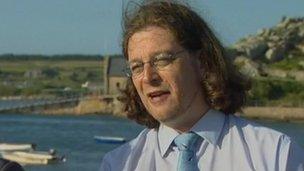 The findings of an independent audit into Five Islands School could allay public fears of a cover up, the Council of the Isles of Scilly has said.
There has been growing unrest against the council since head teacher Bryce Wilby was suspended in May.
The council, which ordered an independent audit, has denied claims of secrecy and an abuse of power.
"It's very important we do what's necessary to clear the air," finance director Peter Lawrence-Roberts said.
When Mr Wilby was suspended no reason was initially given, but the council later said it was investigating alleged financial irregularities and had asked Cornwall Council to carry out a full independent audit.
But the way the matter was dealt with upset some islanders and prompted a series of public meetings about the way the islands are governed.
Mr Wilby resigned in July and has not spoken publicly since, although he previously said he had done nothing wrong and fully expected to be cleared by the investigation.
The former head teacher has still to be interviewed as part of the audit, Mr Lawrence-Roberts said.
The finance director said when the investigation was completed, he hoped some of the findings could be made public.
"It's not customary to publish a report like this, but in the circumstances it could put people's minds at rest," he said.
"People interviewed as part of the audit have a right to privacy, so some of the findings will have to be redacted (edited)."
Not all islanders, however, are convinced the council will be forthcoming with the results of the investigation.
"The council has to be completely transparent," islander Louise Graham said.
"If Bryce Wilby is exonerated, the council should admit it - but I'm not holding my breath."
Mr Lawrence-Roberts said he could not give a definitive timescale of when the council would be in a position to publish some of the findings, but it was probably "too ambitious" to hope it would be ready by the start of the new school term.
"I'd dearly love it to be soon, but that's more an aspiration rather than an expectation," he added.
Related Internet Links
The BBC is not responsible for the content of external sites.