Down's syndrome child Natalia begins modelling assignments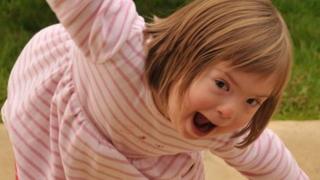 A five-year-old girl from Cornwall who was born with a serious heart defect has received praise from a national charity.
Natalia Goleniowska, from St Columb, was born with Down's syndrome and had two holes in her heart.
The youngster, who battled pneumonia when she was two-years-old, now models for children's clothes companies.
The Down's Syndrome Association said it was "delighted" the youngster was being featured in catalogues.
Natalia is one of two models to be featured in the national JoJo Maman Bebe Autumn catalogue.
The youngster has also been approached by the Eden Project to star in a promotional video, as well as local clothing firms.
'Strength in life'
A spokesperson from the association said: "The Down's Syndrome Association is delighted that two children with Down's syndrome are featured in JoJo Maman Bebe Autumn catalogue. They are both included because they are beautiful children.
"It is really important to see a person first and not just the syndrome. We wish Natty every success in her future modelling career."
Natalia's mum, Hayley Goleniowska said: "People fall in love with her every time they meet her. She is living proof that Down's syndrome is very beautiful and special.
"She has taught us a huge amount over the years, including patience and that you will find strength in life."
When Natty started school, Mrs Goleniowska said she found herself with some time on her hands and decided to write a blog about her daughter's condition.
She said: "I wanted to help other families not to feel as desperate as we did in the early days.
"I thought how lovely it would be to see children like Natty or with other disabilities modelling clothes, or in the media."
Mrs Goleniowska wrote to a number of modelling agencies and other companies.
"Local company Fruigi wrote straight back to us and said that she was lovely and they would love to use her in their next catalogue."