Thresher shark is caught off Looe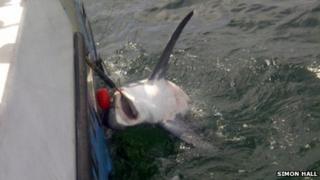 A thresher shark has been caught off Looe in Cornwall.
The shark, which was estimated to be about 12ft (3.6m) long, was caught by an angler from Essex on Saturday afternoon, the Shark Angling Club Of Great Britain said.
After being landed, it was tagged and then released.
It was believed it was about 30 years since a thresher shark was last caught in local waters, members of the angling club said.
Thresher sharks are more commonly found off the coast of Asia and North America.
A string of sightings have been reported in British waters in recent years, which marine scientists have attributed to climate change.
However, three species of thresher shark have been declared to be "vulnerable", according to the International Union for Conservation of Nature and Natural Resources (IUCN) Red List of threatened species.
The sale in Cardiff of a 20ft (6m) thresher caught by a Cornish trawler recently was criticised because the species was on the union's list.
The 550lb (250kg) shark was landed in Falmouth after being caught in the English Channel. It was sold for £3,000.