Cornish mines named as one of the places to visit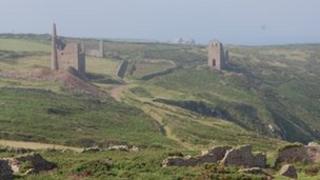 An historic part of Cornwall has been named by an American broadcaster as one of the places to see before you die.
CNN described the mining remains at Botallack in west Cornwall as "thrillingly dramatic".
Visits to the Cornish mining world heritage site's website have increased by about 600% since the CNN report.
The mining structures are on the same list as the internationally famous Taj Mahal in India. Both are world heritage sites.
Botallack was built by the labour of men and boys who worked against the elements including the sometimes wild west Cornwall sea.
The high value of the tin drove some men to take desperate risks and at Botallack they tunnelled under the ocean itself.
But a side effect of their efforts was that many miners developed conditions such as bronchitis, TB and rheumatism from their time underground.
Anthony Power, a National Trust custodian in the area, which also features Levant Mine, said of the CNN recognition: "We're obviously delighted.
"I think it's a very just recognition of the importance of the mines and the area's attractiveness as well."
The American channel said: "The tin mines may be closed, but the ruins of the structures which once housed them near St Just, make a thrillingly dramatic counterpoint to the rugged rocks and wild seas of the Cornish coast."
One American with strong family links to the Botallack area is Florida resident Bill Curnow.
He told the BBC: "The beauty of Cornwall's north coast would be sufficient on its own to make the place a "must see" destination for tourists."
Its architecture and archaeological importance made it "a truly special place for those who are fascinated by history," he added.
Mr Power admits it might be a while before the area starts to see the results of being featured in the global survey.
'Jaw dropping beauty'
He said: "I know from the world heritage site office, the number of hits have increased by about 600%, so that's a very immediate impact.
"Hopefully we will see that starting to be reflected in the number of people visiting these mining sites."
Mr Power is confident people visiting the mining remains and the surrounding area will be impressed.
"For me this is about the struggles of ordinary people to create what are now fantastic monuments.
"It's sad this part is not a working industry. But I hope visitors will be moved by the abilities, the toil and the lives of the Cornish people who created this."
Malcolm Bell from Visit Cornwall said: "The CNN listing is very well deserved as the Botallack Head is a double icon for Cornwall with the tin mines and the magnificent granite cliffs of the duchy.
"It symbolizes both man's innovation and determination with nature and the sea's ability to make jaw dropping beauty."