Boconnoc House wins Sotheby's Restoration Award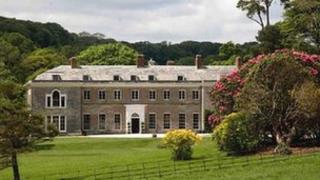 The restoration work undertaken at one of Cornwall's most historic houses has been recognised with a national prize.
Boconnoc House, Lostwithiel, which was taxed in the Domesday Roll, has been given the Sotheby's Restoration Award.
The house and estate were virtually abandoned for 30 years after World War II until its current owners, Anthony and Elizabeth Fortescue began restoring it in 1997.
The work has taken the couple 11 years to complete.
Mr Fortescue said: "It's very exciting - it's been a long haul but we've had a really good team working here."
The Fortescue family have owned the estate since 1834 when it passed to them from the Pitt family.
Mrs Fortescue said: "We've had a lot of people come here every year to watch the progress and I always think they go home happy because it puts their own damp patch in perspective."
Boconnoc was unanimously voted as this year's winner by the judges both for its overall revival and renewal.
Restoration work took place in the main ground floor rooms, including the drawing Room, library, dining Room and king's bedroom and in particular the painted staircase influenced by neo-classical architect, Sir John Soane.
James Stourton, Chairman of Sotheby's UK, said: "This magical house sits in one of the most beautiful settings in Cornwall and was crying out to be restored and used.
"It is wonderful to see it come back to life and to see the important painted staircase influenced by Soane so carefully respected in its restoration," he added.
The house has been home to two British Prime Ministers and was also occupied by American troops during the Second World War in preparation for the invasion of Europe.
The Sotheby's award was launched in 2008, to recognise and celebrate the restoration work that is continually being undertaken by members of the Historic Houses Association (HHA) throughout the United Kingdom.