Cornwall Council tackles empty homes crisis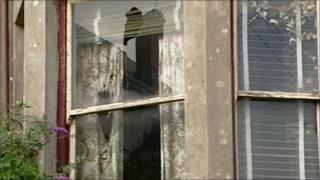 Cornwall Council claims it is "determined" to bring hundreds of empty homes back into use to tackle the shortage of affordable housing.
There are currently 3,875 long-term empty properties across the county - some of which have not been occupied for decades.
The Cornwall housing register currently has 25,000 people in need of a home.
Its aim is to bring 130 empty properties back into use each year and is writing to private landlords.
Cornwall cabinet member for housing and planning, councillor Mark Kaczmarek, said: "Some of these properties have been empty for 10, 15 even 20 years and when these are in towns and villages they actually drag down the appearance of the town, they are subject to fire, vandalism, fly tipping and it creates a whole social problem," he added.
Cornwall Council's private sector housing manager, Joe Roberts, said: "We're actively working now to deliver a loan via the council to assist people to bring properties back into use for sale."
He said his team was in the process of "identifying the ownership of the all empty properties".
The council does have the power to compulsory purchase an empty home "in exceptional circumstances" but as yet this has not happened.