Plans for 135,000-panel solar farm near Week St Mary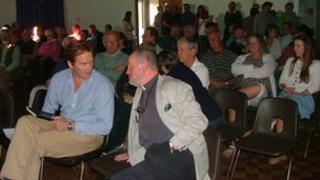 Plans for a solar farm involving about 135,000 solar panels over an 120-acre area have been put forward for a site in north Cornwall.
Wiltshire-based company Good Energy Ltd is investigating building the project in the Week St Mary area.
More than 100 people attended a meeting on Friday to discuss the proposals.
Critics said the project was too big for the area. The energy company said it hoped to engage with local people to show its benefits.
'It's frightening'
Cornwall already has 12 solar farms and there is permission for 24 more.
The largest existing solar farms in Cornwall currently have about five megawatts capacity - enough to supply about 1,000 homes.
Good Energy's project would have a capacity of between 25 and 30 megawatts, bosses said.
Some residents said they were forming a committee to fight the plans.
Objector Pauline Smeeth said at the meeting: "We do not want this to happen in our area.
"We are not against renewable energy, we are against the magnitude of this.
"It is huge, it is frightening."
Good Energy's head of development, Hugo House, said the company hoped to get objectors on board with its plans.
"We have to play our best hand when it comes to renewables," he said.
"We have to identify the best sites for the best technology, and it's really important to take the community with you.
"Our steps over the next few weeks is to be engaged with the community, and to try and illustrate what the benefits are; and to get them on board with what our future plans may be."
A planning application has yet to be submitted for the project.