Cirl bunting reintroduction in Cornwall 'sustainable'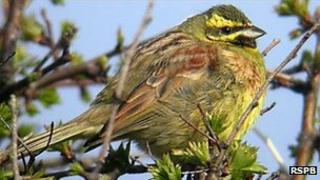 The reintroduction of a rare songbird to Cornwall has reached a sustainable population, the RSPB has said.
The cirl bunting, which is a close cousin of the yellowhammer, used to be found on farmland across the county, but disappeared in the early 1990s.
The reintroduction started in 2006 and the charity hopes the population has reached a level where no further birds need to be released.
The RSPB said there are 43 pairs living in Cornwall.
The bird was seen across southern England but is now only found on coastlines in Devon and Cornwall.
Stuart Croft, from the RSPB, said at the start of the project that a population of up to 40 pairs was seen as sustainable.
Mr Croft said the chicks used for the reintroduction came from the Devon population.
The last release happened in 2011.
He said: "Because the population has reached the target we'll now be purely monitoring the birds to see how they're doing."
The RSPB said there were about 860 pairs breeding in the UK.