Scilly Isles residents' jobs fear over council disagreement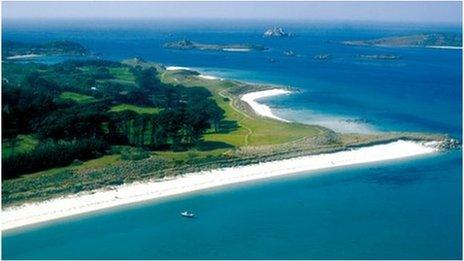 Accusations of secrecy and poor governance in the Isles of Scilly will be investigated, the chairman of the council has promised.
Residents have complained of "fear" of losing council contracts and jobs if they disagree with its officers.
The suspension and resignation of the island's secondary school head teacher prompted a public meeting on Thursday.
At the event, council chairman Michael Hicks said he accepted the council might not have got everything right.
At the meeting in St Mary's, retired GP Adrian Davies said people had been "silenced" over disagreements with council officers and while it was acceptable "once in a while" it was "happening more often".
Peter Lawrence Roberts, senior officer in charge of finances, said: "If people really are in fear of losing council contracts, losing their jobs or worse that is a matter of very serious concern to me.
"Anybody should be free to complain or disagree with our chief officers."
Discontent arose after former head teacher of Five Islands School, Bryce Wilby, was suspended in May while the finances of the school were examined. He resigned before the investigation finished.
Mr Hicks said: "I think as far as he's concerned that's the end of the matter [his resignation]. The council will be looking and helping the governors to restructure and rebuild the confidence within the school."
He said the council was aware of a petition calling for chief executive of the council, Philip Hygate, to be suspended as the "perception" was that he ruled forcefully.
But Mr Hicks said "senior members of the council can and do hold him to account" and he would not be suspended on a "whim".
Mr Hicks said he had received a letter from 41 members of staff at the school which supported Mr Hygate saying he had worked "tirelessly and professionally" during the "difficult circumstances".
He said: "We have been accused of poor governance and I will be looking at the governance issues that are concerns. There will be a full internal inquiry."
Mr Hygate did not attend the meeting and has not commented.
Related Internet Links
The BBC is not responsible for the content of external sites.