Newquay police send home drunk and disorderly teenagers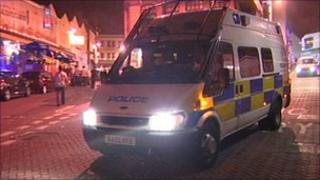 Newquay police have sent home 27 teenagers in a week in efforts to "crack down" on under age drinking and antisocial behaviour in the town.
Police were called to a group of 20 16 year-olds from Bristol "running riot" in a rented apartment and found one boy unconscious from alcohol.
Other teenagers have been evicted from a hostel after damaging a room, and damage was caused in a local campsite.
Insp Ian Drummond-Smith said it was a "waste of police and NHS resources".
The group from Bristol, were on holiday in a private apartment which had been rented by one of the teenagers parents.
Police found eight empty bottles of vodka and a bin bag of empty lager cans. The toilets had been pulled off the wall.
'Disgraceful waste'
Mr Drummond-Smith said: "The under-18s at this party told us they brought this alcohol down to Cornwall but refused to state how they had obtained it back home.
"The unconscious 16-year-old was in quite a state and its fortunate we were called so we could get him to hospital.
"This is a disgraceful waste of police and NHS resources and I would encourage parents to think long and hard before renting private accommodation for groups of unsupervised under-18s."
Parents of five 16-year-olds from Guildford were called to collect them after the teenagers caused damage to a caravan at a camp site.
Two 16-year-olds from Solihull were collected by their parents after being evicted from a local hostel where a room was damaged.
Last week there were 25 arrests, 142 seizures of alcohol and seven people banned from the town.