Goonhilly marks Telstar satellite transmission anniversary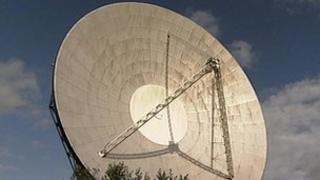 The 50th anniversary of the first transatlantic television broadcast via satellite to Britain has been marked at the site in Cornwall which received it.
On 11 July 1962, pictures from America were sent via the Telstar satellite to Goonhilly.
The project led the way to modern satellite communications.
About 300 former staff have celebrated the anniversary, which included commemorating Arthur, the 26m (85ft) dish which received the signal.
'Very relieved'
Goonhilly earth satellite station was built by the GPO on Goonhilly Downs at a cost of £650,000.
The site was chosen because it was flat, giving a clear view of the horizon, and its hard rock surface could take the weight of the 1,118-tonne dish - officially named Antenna 1, but nicknamed Arthur.
At 01:00, the television pictures were broadcast to viewers of BBC1, received via the satellite which was launched the day before.
Brian Oakes, one of the Post Office engineers involved, said staff were "very relieved" the equipment worked.
He said: "It had never been made to work in that way [involving space] before. We had only tested it 20 miles away at Land's End."
When Arthur came online with the USA's satellite station in Andover and Pleumeur Bodou in France to use the Telstar satellite, Goonhilly only had to deal with one television channel or 500 simultaneous telephone calls.
Over the years it grew to 160 acres and had more than 60 dishes which handled computer data, fax transmissions, video conferencing, telex communications, TV signals and about 10 million telephone calls a week.
It was involved in many groundbreaking communications events, such as several Olympic Games, the Muhammad Ali fights, and 1985's Live Aid concert.
The site also attracted about 80,000 visitors a year and Arthur was Grade II listed.
Satellite operations ended in 2006 and the site was closed by BT in 2008.
Former Goonhilly engineer Des Prouse said the county should be "really proud" of its involvement in communications breakthroughs.
He said: "From 110 years ago, with Marconi and the first radio telegraphy; and then 50 years ago with Telstar and the first transatlantic television, it's marvellous that it all happened in Cornwall."
The site is due to be given a new lease of life.
The government is to provide £7m to help transform it into a radio telescope station for deep space communications.