Cornwall services could go part-private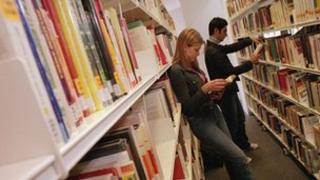 Cornwall libraries, council advice centres and the county council's payroll services could be partly privatised.
A report to Cornwall Council Cabinet proposes setting up a joint venture company between the authority and a private company.
The contract, worth up to £800m, would save Cornwall Council at least £2.5m a year says the report.
Council Leader Alec Robertson rejected claims it was selling off services.
'Deep misgivings'
Stuart Roden, from the union Unison, said: "Our concern is that a lot of these companies in other parts of the country have got into trouble.
"It's a mind-boggling sum of money and the council needs to think it through very carefully and learn from those mistakes."
A report from a cross-party group of councillors said they had some "deep misgivings" over the plans.
Labour councillor Jude Robinson said: "We are being asked to believe we can cut more money, improve services, create jobs and the private firm can make money and I can't see any hard evidence to support that."
The Conservative-Independent controlled council has also been developing plans to work more closely with other public sector organisations in Cornwall.
Mr Robertson said it was an example of "developing innovative new ways of doing business more efficiently" by the council.
He said: "This is a genuinely ground-breaking proposal which would see the council working with partners to improve services and deliver greater value for money for people in Cornwall.
"By creating a new shared services company in Cornwall, we would help protect both existing public sector employment and could create hundreds of new permanent, well-paid jobs."