Royal Cornwall Hospital pays £85,000 ambulance delay fines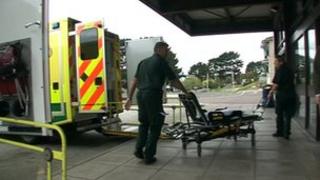 A hospital in Cornwall has paid more than £85,000 in penalties for keeping ambulances waiting during the handover of emergency patients.
Hospitals are contracted to get ambulances back on the road within 30 minutes of their arrival with patients.
The Royal Cornwall Hospital has paid the South Western Ambulance Service because of 830 incidents in a 10-month period up to February 2012.
The hospital said admissions teams worked hard to enable quick hand-overs.
Summer peak
BBC South West health correspondent Sally Mountjoy said the hospital was facing more such penalties, with more crews having to wait more than half-an-hour to hand patients over since February.
In May, ambulances were kept waiting on 142 occasions.
The hospital said high levels of emergency admissions and bed-blocking had caused difficulties in making suitable arrangements for some patients to leave, which would allow new patients in.
It added that it worked with colleagues in the health and social care community to ensure a smooth flow of patients through hospitals.
South Western Ambulance said faster handovers were a "priority for everyone".
It said it was confident things would improve, but added there had been several urgent meetings to discuss how to cope with peak demand in the summer holiday period.