Imerys opens new china clay pit in St Austell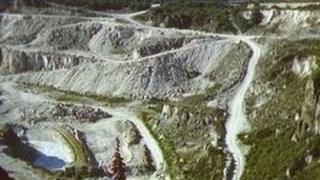 French firm Imerys has revealed work has begun at its first new china clay pit in Cornwall for almost 30 years.
The Higher Moor Pit, near St Austell, will cover 17 hectares (42 acres), and is 70m (230ft) deep in places.
Over the next few years four million tonnes of raw material will be taken from the ground - the source of the china clay.
Imerys said the new project was a "short life pit", and will be worked on until 2018.
Large reserve
In May this year the first tonnes of china clay were extracted from the Higher Moor New Pit. The pit will be worked on for about six years.
Ed Buscombe, central area mines manager at Imerys, said: "Higher Moor Pit will provide good quality material for our higher quality clays and will help Imerys maximise its available clay reserves."
Andrew Bloodworth, from the British Geological Survey, said: "The deposits in Cornwall are world class. They are significant on a global scale. This is a vote of confidence in the deposits and in Cornwall."
Ivor Bowditch, former communications manager for Imerys said: "I would predict that china clay will still be important for many decades to come. We still have a large reserve of china clay."
The china clay industry in Cornwall was started nearly 300 years ago by English China Clays, which was taken over by Imerys in 1999 for £756m.