Sue Robins 60 beaches in 60 hours cancer charity walk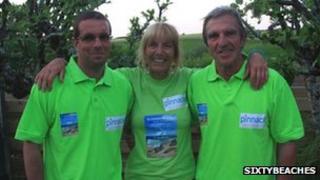 A Cornish woman who has battled cancer twice is celebrating her 60th year by walking across 60 Cornish beaches in 60 hours for charity.
Sue Robins from Newquay - who had breast and ovarian cancer - started her challenge at Trevone beach in Padstow.
Money raised from the walk is going to support the Pinnacle Cancer Research Trust.
Mrs Robins said her first diagnosis age 36 was "devastating" as she had "three young children at the time".
She said: "The thought of not seeing them grow up was horrendous.
"I was not given a very good prognosis at first and started watching my diet and taking up meditation, and then I got told that my chances were bright.
"A year later I knew I had survived and vowed to live life to the fullest."
Sandcastles
But in February 2011 Mrs Robins discovered she had ovarian cancer.
"It was a shock as after 23 years the cancer had gone to the back of my mind but I was really positive and already saw it as I had 23 years I might not have had before."
After her first diagnosis Mrs Robins vowed to her family that she would like to see life through to be a grandmother and on the day she found out she had ovarian cancer she also found out her daughter was pregnant.
Mrs Robins finished her chemotherapy treatment in July last year and said she "remains positive".
She will be accompanied on her challenge by her 16-month-old dog Alfie.
Along her route Mrs Robins will be building sandcastles and placing a Cornish flag in them so people know where she has been.
She said: "I will be carrying boxes with me and I am hoping that beach cafés will have collection boxes for me.
"For my birthday I asked for donations so I have already raised £700."
The Pinnacle Cancer Research Trust was established in September 2004 to support cancer research exclusively in Devon and Cornwall.