EV Thompson dies at Launceston home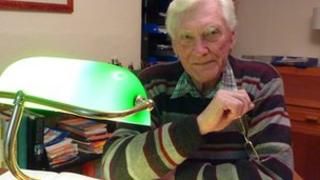 Author EV Thompson, who sold more than five million books, has died at his home in Cornwall, his family has confirmed.
Mr Thompson's son said his father had died peacefully in his Launceston home on Thursday night.
The 81-year-old published about 40 historical novels, most of them set in Cornwall.
He was appointed an MBE in the most recent New Year's Honours list and was also a Bard of the Cornish Gorsedd.
'Dream author'
Mr Thompson died with his wife, Celia, and two sons, Nathan and Luke, by his side, his family said.
Publisher Robert Hale said it was with the "greatest regret" that staff had learnt of his death.
The company said: "He was a friendly, agreeable and likeable person who had the gift of getting on with everyone he met.
"He was a publishers' dream author, not just because of what he wrote, but his efforts to promote and sell his books which he was doing to the end with great success.
"What he wrote evoked the spirit of Cornwall which explains why he had such a great following in Cornwall and elsewhere."
Born in London, Mr Thompson arrived in Cornwall in 1970, having seen service in the Navy in Hong Kong, Japan, Korea and other places.
While working in Rhodesia as the chief security officer for the Department of Aviation, Mr Thompson decided to make a break as an author, moving to Cornwall.
Success initially evaded him, and within a year he was sweeping floors in the English China Clay works at Par, near Fowey.
In his spare time, he continued to write, gaining success with the novel, Chase the Wind. It was voted the best historical novel of the year, and was translated into 14 languages.
Speaking of that book, Mr Thompson said: "The storylines come from researching. In my very first book I was sitting on the doorstep of an old miner's cottage, wondering about the people who lived there before.
"I saw some bluebells which must have been planted perhaps by a miner's wife and thinking about her and her family and the thoughts they would have had."
Speaking about his work, he said: "It is rewarding. I enjoy the writing and the research. The fact the books succeed is a bonus. I simply love writing.
"I could never put my feet up, I think I would drive my wife mad if I wasn't writing."
His most recently published book was a paperback issue of Beyond the Storm last May, Robert Hale said.
His final book, The Bonds of Earth, is due out in November, the publisher added.