Mayoral task force criticises Cornwall parking charges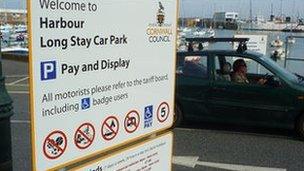 Mayors in north and east Cornwall are forming a task force to save town centres from what they describe as "death by car parking charges".
Cornwall Council is standardising charges after inheriting different rates from former district authorities.
Liskeard's mayor said charge increases - from 20p for an hour to a minimum of £1 for two hours - had resulted in fewer users, affecting businesses.
The council said it was trying to promote people coming into towns.
Cornwall Council has been standardising parking rates after inheriting the car parks from the county's former district authorities when it came into being in 2009.
Liskeard mayor Tony Powell said figures he obtained from the council showed that, in April 2010, more than 37,000 tickets were sold in the town's car parks.
In April 2012, the figure was down to 17,000, a drop of more than 55%.
Changes in the interim included a charge of 20p an hour being increased to a minimum fee of £1 for two hours.
Mr Powell said he and other mayors, including those in Bude, Callington, Launceston, Saltash and Torpoint, wanted to work together.
He said: "We're looking to see if we can formulate some strategies as a group, or support one another individually."
The mayors could ask the unitary authority to consider leasing the car parks back to parish and town councils so they could work on increasing traffic.
Mr Powell said: "There's no objection to engaging with the council. This isn't and 'them and us' situation."
Cornwall Council's community transport manager, Peter Moore, said various factors could have affected ticket sales.
He said: "Last month was the wettest April on record, and car park sales were generally down."
He added that Mr Powell was talking about ticket sales, as opposed to vehicle numbers, and claimed that before the minimum £1 rate "people may have been buying extra tickets to stay after the first ticket expired".
Mr Powell said that minimum charges were in discussion across the county.
"We are interested in trying to promote people coming to the town."
Related Internet Links
The BBC is not responsible for the content of external sites.