Cornwall's 'inadequate' children's services updated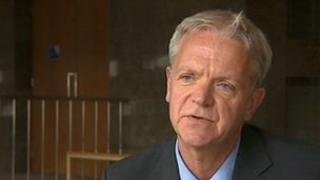 Child protection services in Cornwall have been updated after the service was branded "inadequate" by Ofsted.
Cornwall Council was criticised in 2009 because social workers' case burden was too high.
The authority said the changes included an updated computer system which reduced paperwork by about 45%.
It added less experienced workers would receive more training and employees who were promoted to managerial posts would continue to work on the frontline.
New appointment
Jack Cordery, head of Children's Social Work Services, said: "There are plenty of children in Cornwall in very difficult circumstances and we know from research that the earlier we can help these families the more likely we are to get the right result.
"I don't want us to puff and blow over the finishing line moving from inadequate to adequate, I want us to be one of the best children's services in the country."
Another change to the service is the creation of the Principal Social Worker (PSW), a managerial role where the appointee continues to work on the cases which they were working as a social worker.
Tina Paul, who has been appointed a PSW in west Cornwall, said: "I think it's a really important aspect of the job that you understand what's happening on the ground, what the workers are coming across, what the difficulties are."
The council said there were plans to appoint PSWs to every team in the county.
Lucy de Groot was appointed by the Government to investigate and monitor Cornwall's failing Children's Services department in 2010.
She said: "I'm hopeful that as soon as there is a further inspection by Ofsted they will be able to move on from that ['inadequate' classification] and be able to get really involved in building these wider range of services."