Land's End Cornish translation removal criticised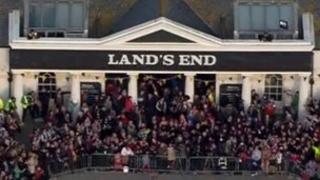 The removal of a Cornish translation of "Land's End" from above the entrance to the landmark has been criticised by Cornish language advocates.
The Cornish Language Partnership said that the removal of the words "Penn an Wlas" was an act of "linguistic cleansing".
It added that such moves could be damaging to Cornish culture.
Land's End managers said the name was in Cornish and other languages beside the entrance.
Critically endangered
Cornish is believed to have died out as a first language in the late 18th Century.
In February 2009, the United Nations said Cornish was extinct.
By December 2010, it accepted that it should reclassify Cornish as merely critically endangered.
Maga, the Cornish Language Partnership, said there were about 300 fluent speakers in the county, but that "an awful lot more people than that" had a "smattering" of the language.
Maga development manager Jenefer Lowe said the partnership was "really surprised" the attraction had made the change.
She said: "The language is growing and we are getting more signage all over Cornwall.
"We also know from tourism statistics that visitors are interested in the language and supportive of it."
Land's End general manager David Bryans said the changes had been made during a refurbishment which was carried out to maximise the appeal of the attraction and "bring as much tourism to Cornwall as possible."
He said: "Land's End is an international tourist attraction and we have a multi-cultural ethos.
"In keeping with that, we have tried to make the entrance as welcoming as possible to as many people as possible.
"As visitors will see, our welcome in Cornish is still displayed prominently and proudly at the entrance alongside international languages such as German, Spanish and Italian."