London 2012: Cornwall Olympic torch Tamar Bridge dismay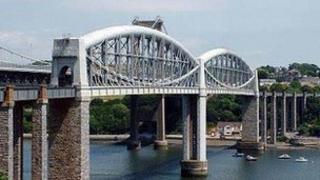 A decision not to perform a handover of the Olympic torch between runners on the Tamar Bridge which connects Cornwall and Devon has been criticised.
The flame will now be carried part way across the bridge before being put in a van and driven to Plymouth on Saturday.
Councillors in Saltash in Cornwall and Plymouth said it was "disappointing".
Olympic organising committee Locog said it had to weigh up the significance of the landmark with the "practicalities of using a main regional thoroughfare".
'A shame'
Many people were in favour of a "torch kiss" in the middle of the bridge between Saltash and Plymouth, with the flame being passed from one bearer to another.
Mayor of Saltash Martin Gee said: "It seems sad that it is not being made a really, really big event - this is the end of Cornwall and we should be celebrating the torch going off to England."
Saltash councillor Hilary Frank added that it was "a wasted opportunity".
"It's the symbol, it's going to be one of the iconic moments of the whole torch relay in Cornwall," he said.
Plymouth torch bearer Barbara Snowling, from Crafthole, Cornwall, said: "People up country don't get the significance of moving from one county into another in quite the way that we do down here.
"It seems a shame that there can't be a handing over on the bridge to the other county."
Plymouth City Council's deputy leader, Peter Smith, said the city "shares the public's disappointment".
He said: "It is an iconic location and the gateway between Cornwall and Devon.
"We have made Locog aware of our views and this is being raised at the highest level."
Locog said it could not allow a full flame handover between runners on the bridge because it would involve too much of a delay on a major traffic route.
The bridge's four traffic lanes would have to be completely closed for such a ceremony, halting traffic in both directions, it said.
It said: "We are still taking in this iconic landmark but we have to weigh this up with the practicalities of using a main thoroughfare in the region".