Truro Pearl autism drop-in centre is opened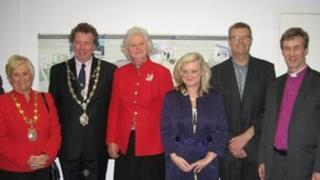 A new drop-in centre for people with autism has opened in Cornwall.
The Pearl Centre - People Experiencing Autism Research & Learning - will provide information for children and adults with autism and their families.
The centre, run by Spectrum, will offer support and advice on benefits, access to specialists and provide a place to meet.
The centre, based in Cathedral Lane in Truro, will operate during week-day business hours.
'Completely in the dark'
Mary Simpson, chief executive of Spectrum, said: "This is a vital part of making sure parents have somewhere they can go, get good quality information and levels of support."
Yvonne Nelson, whose daughter has autism, said: "When you first have a child that's different you're completely in the dark.
"You know your child's different, but you don't know why or how you can help them.
"To have somewhere to come and get some expertise and help will be absolutely wonderful."
The charity currently operates 25 residential homes around the county and has opened the centre as part of its 30th anniversary.