Penlee Museum shows Bronze Age necklace Penwith lunula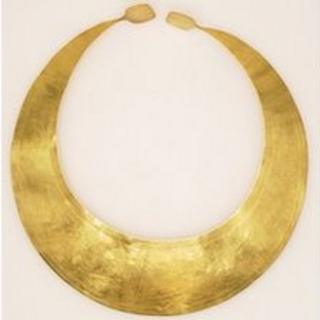 A Bronze Age necklace found in Cornwall in the 18th Century has returned to the county after being housed at the British Museum for more than 150 years.
The necklace, known as Penwith lunula, has been loaned to the Penlee House Gallery and Museum in Penzance.
The crescent-shaped gold collar is thought to date back to the early Bronze Age - possibly to 2500 BC.
It was discovered in the Gwithian area of the county in 1783 and recorded by local man John Price.
Alison Bevan, director of the Penlee, said: "I had butterflies as it was put on display.
"It's absolutely exquisite and really exciting to have it on loan."
Since 1838 it has been housed at the British Museum, but it will be on display in Cornwall for the foreseeable future.
In 2011, the lunula was on show at the Penlee for a few weeks, but Ms Bevan said it was the first time it had been on display for an extended period.