London 2012: Land's End to get torch relay revamp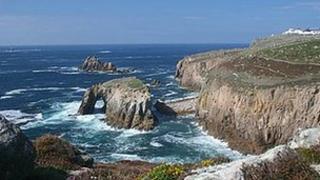 One of Cornwall's main tourist attractions is to undergo a £3m upgrade.
Over the next five years buildings, paths and facilities at Land's End will be improved.
Land's End, the most westerly tip of mainland England, is owned by Heritage Great Britain PLC.
It will be the starting place for the 70-day Olympic torch relay. Coastal paths and facilities will be improved before the event on 19 May.
David Bryans, general manager, said: "It's a great honour to be chosen as the starting point for the relay and we want Land's End to look its absolute best."
After leaving the attraction, the torch will travel about 8,000 miles across the UK, before reaching the opening ceremony in London.
A piece of artwork will also be installed at the site to commemorate the relay.
A spokesperson from the attraction said: "The project aims to improve the experience for families who visit Land's End and to help conserve its 100 acres of natural landscape.
"Directional signage, along with information boards about the history and nature of the site, will also be upgraded."
During the next five years the money will also be used to improve buildings, develop an interactive education programme and create a new attraction.