Post delivered by penny-farthing in Bude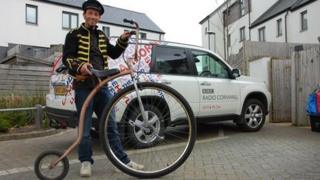 A man from Cornwall has started a new local postal delivery service - on a penny-farthing.
Graham Eccles, who lives in Bude, is delivering letters locally for 25p on his adapted bicycle.
The idea was prompted by Royal Mail's announcement that stamp prices are to rise.
From 1 May the cost of first-class stamps will increase from 46p to 60p and second-class stamps will go up from 36p to 50p.
Mr Eccles has set up three collection points around the town and since starting his service on 1 April, he said he had delivered more than 150 letters.
Mail is collected and delivered twice a day to Bude, Stratton and Poughill and letters picked up at the morning collection are delivered the same day.
"I had an idea a while ago about a penny-farthing post for tourists to send themselves postcards within the town," Mr Eccles told BBC News.
"Then when I found out Royal Mail was putting the prices [of stamps] up again, I thought 'let's try it and use it as a proper business and save local businesses a lot of money' and it seems to have taken off really quickly."
Penny-farthing bikes were named after the old British penny and farthing coins and were popular in the late 1800s.
Mr Eccles said his bike was not a true penny-farthing and had been adapted from a unicycle.
He said one of his aims was to put a post box in all the local schools to encourage children to write letters to each other, which might help to improve literacy.
"I think Royal Mail is charging far too much and I thought 25p would be perfect for the local area," he said.
Mr Eccles, originally from Bradford in West Yorkshire, said if he could find riders willing to collect and deliver the post in their own area they could meet up and swap letters.
"If local villages take up on the idea, it could be a really good grass roots community thing... and could even become nationwide," he added.