Cornwall Wildlife Trust hopes for more basking shark sightings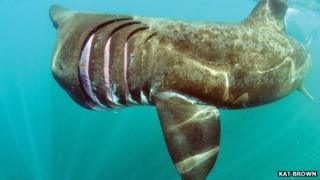 Conservationists hope that more basking sharks will be recorded off Cornwall this summer following a "poor year" for sightings in 2011.
Cornwall Wildlife Trust said that 19 creatures were recorded during its annual Seaquest Basking Shark Project last year compared to 647 in 2010.
Unsettled weather and fewer volunteers contributed to the drop in sightings from June to August, the charity said.
However it added the results did not mean the species was at risk.
The project runs between 1 June and 31 August when shark numbers are at their highest because of the seasonal plankton bloom - which they feed on.
Abby Crosby, marine conservation officer, said: "The sharks are present where their food is blooming.
"Last year the bloom could have been deeper in the water or outside of the recording area," she added.
Volunteers sought
During the survey volunteers record the number of sharks seen from headland near Gwennap Head, Land's End.
Ms Crosby said: "Correct conditions, including long periods of still, calm weather, could mean more surface sightings of basking sharks.
"Despite the settled weather we've had over the past few weeks, it's too early to say whether we'll record lots of sharks this summer. We hope more will be seen this year," she added.
Volunteers record the number of sharks seen from dawn until dusk.
In 2010 they were on watch 80% of the time compared to 50% in 2011.
Ms Crosby said a shortage of volunteers had meant fewer sightings but despite this there was still a considerable reduction of sightings in 2011.
"We hope to get enough volunteers this year to look for sharks 100% of the time during the watch period," she added.
Basking sharks can grow up to 39ft (12m) long and weigh up to 7 tonnes.