Recycling: 'Confused' Cornish residents ring helpline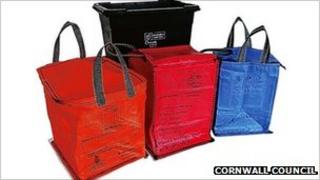 Rubbish and recycling collection changes in Cornwall have sparked thousands of calls from residents.
Cornwall Council is standardising collections across the county's former six district council areas.
A special help line has had more than 35,000 calls from people who have not received new bags and boxes or are confused about the "colour" system.
A council spokeswoman said additional staff had been taken on to clear the backlog of queries.
Esther O'Bearagh, from the waste and recycling department, said: "I don't think we underestimated - we knew there would be a lot of calls and consequently we've had that ability to bring more people in.
The new fortnightly recycling service consists of one box and three reusable bags, but where similar equipment is already in use, householders will not get new receptacles.
Much of the confusion appears to be about the various different coloured bags, sacks and boxes and what goods should be recycled in which bag or box.
Residents living in the former North Cornwall, Caradon and Restormel district areas should get a complete set of three new reusable sacks and a black box to replace the coloured disposable plastic sacks they currently use.
But former Carrick district householders, who already have a black box, a red sack and a yellow sack can expect a new orange reusable sack for recycling cardboard.
Households in the former Kerrier district will also get an orange reusable sack, a blue reusable sack for paper, but no box as they already have a blue box.
Whereas residents in the former Penwith area who already have a green box will be given a blue sack for paper, a red sack for cans and plastic bottles, and the orange sack for cardboard.
Pictures on bags
Recycling advice from the council says glass bottles and jars should be put in the black recycling box - which is not black, but blue in the former Kerrier area and green in the former Penwith area.
Paper should be recycled in the blue reusable sack (which is not blue, but red in the former Carrick area), while the red reusable sack (blue in Kerrier and yellow in Carrick) should be used to recycle cans and plastic bottles.
But council spokeswoman Davinia Grist said each sack will have a picture on it, showing what rubbish can be recycled in it.
The weekly collection of non-recyclable rubbish will continue, but residents who use bins instead of black sacks, must bag their rubbish inside their bins.
Cory Environmental, which has the contract to run the service, has new collection routes which has meant a changed collection day for some residents - but that information has only been available on the council's website.
Keith Waugh, who lives near Roche and has still not received the new bags and boxes, said the advice he was given by the help line contradicted an information leaflet sent out to residents which left him more confused then ever.
"As you get older you start worrying about some of the simplest things and since I retired I've found that I can't take a lot of stress."