Rosenannon Downs fire: Cornwall Wildlife Trust 'horror'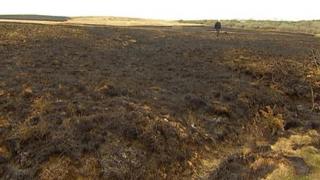 Conservationists have said they are "horrified" after a suspected arson attack on a Cornwall nature reserve.
Crews from Cornwall Fire Service were called to Rosenannon Downs early on Saturday. They have informed police.
The suspected arson attack affected 52 hectares, the size of more than 100 football fields, at Rosenannon.
Cornwall Wildlife Trust described it as wildlife vandalism and said the fire would affect birds at nesting time as well as butterfly larvae on the ground.
'Kill everything'
Trustee Dave Thomas said: "It is absolutely awful, especially at this time of year.
"Most of the birds such as stonechats and pipits have started building nests and are sitting on their eggs.
"Butterfly larvae are sitting under the heather.
"Lizard, snakes and slow worms won't be able to move fast enough to get away from a deep burn like we have at Rosenannon Downs so will also be destroyed.
"These fires go through and kill everything. It is devastating.
"Last year we lost a nest of dormice which are very rare in Cornwall in a gorse fire at Rosenannon Downs."
"This is wildlife vandalism.
"These people just don't understand what wildlife is there."
Rosenannon Downs was the victim of another suspected arson attack in 2009.