Titanic: Cornish tin mining decline 'forced' miners abroad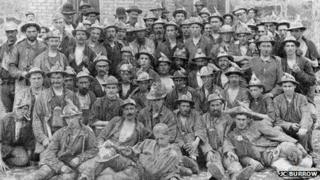 Among the 2,000 people on board the ill-fated Titanic in April 1912, there was a group of Cornish miners hoping to build a new life in America.
They were among thousands of miners "forced" into emigrating as the South West's main industry declined.
Until the late 19th Century, Cornwall was one of the world's biggest exporters of copper and tin, with about 50,000 men, women and children working in more than 300 mines.
At the industry's height, the county was producing 10,000 tonnes of tin a year - about half the world's production - and had hundreds of steam engines pumping water from mines, many of which stretched out from the South West's peninsula under the sea.
But as Cornwall's mining industry declined, the demand for its miners' skills increased all around the world, including in the United States.
Titanic was carrying several Cornish miners bound for Michigan when it hit an iceberg on 15 April 1912 on its maiden crossing from Southampton to New York. None of them survived.
One of the youngest of the Cornish miners on board was 19-year-old Willie Carbines from St Ives.
Having paid £13 for a second-class ticket - the equivalent of nearly two months wages - the teenager planned to join two of his three brothers who had previously emigrated and were mining at Calumet in Houghton County, Michigan.
Willie was one of more than 1,500 people who drowned when the Titanic went down.
His local paper, the St Ives Times and Express, described him as "well known and much liked by a good many friends".
His body, identified almost a month later by his brothers Robert and John, was returned home to St Ives where, according to newspaper reports at the time, his funeral was attended by more than 500 mourners.
Among Willie's belongings, recovered by White Star and returned to his brothers, were a watch and chain, pipe, knife and about £5 in cash.
Sailing cancelled
Another miner who lost his life was 33-year-old Stephen Curnow Jenkin, also from St Ives.
He had emigrated from Cornwall nine years earlier with his brother William and had found work in Houghton's copper mining industry.
In 1912 Stephen, who had become an American citizen, went back to St Ives on holiday to visit relatives. He was booked to return on another ship but when the sailing was cancelled because of a coal strike, his booking was transferred and his fate sealed.
Bill Curnow, whose great grandfather emigrated to Michigan in 1868, is related to both Willie Carbines and Stephen Curnow Jenkin.
"I've been able to work out I'm related to both Willie and Stephen - Willie's sister married one of Stephen's brothers I think," he said.
"It is only a slight exaggeration to say that everybody was related to just about everybody else in old Cornwall."
Mr Curnow, 71, who lives in Port Charlotte, Florida, said he had always been fascinated by Cornish history and his family's roots.
He is a bard of the Cornish Gorsedd, an organisation which aims to maintain the traditional Celtic spirit of Cornwall in the UK and around the world.
"Peter Curnow, my great grandfather, was a tin miner from Ludgvan near St Ives, who came over to Detroit in 1868," he said.
'Second-chance Curnow'
"He was an explosives technician in a coal mine but I think the Cornish tin miners tended to look down on the coal miners, thinking they had it easier.
"With (few) other options in Cornwall, miners were being forced to look elsewhere for work and going abroad was the answer for some of them."
Despite the tragedy of the Cornish loss of life on the Titanic, Mr Curnow said there were some "lucky escapes".
"Edward Curnow from St Ives was almost persuaded by his friends - and I think one of them was Stephen - to go over on the Titanic but shortly before they were due to go he changed his mind," he said.
"He did subsequently come over to the USA and became an iron miner in Ely, Minnesota, where his nickname was 'Second-chance Curnow' because he'd been given a second chance at life.
"Then there was Richard Bryant, who I believe lived somewhere near Penzance. He had his ticket for the Titanic stolen and I often wonder what happened to the blighter who took it."
Jean Ellis, of Eagle Harbor, Michigan, a former teacher who is also a descendant of Cornish immigrants, has researched Cornish migration and said from the late 1800s there was a "stream of young Cornishmen carrying unique skills and knowledge to every mining camp in North America".
When two large copper lodes were discovered at mines in Calumet and Hecla in 1865, the two mine owners joined forces and the merged company became large enough to influence world markets.
'Frightened to death'
Ms Ellis believes the very expertise Cornish miners brought to Michigan may have accelerated the ongoing decline of mining in Cornwall.
Records indicate there were about 60 passengers from Devon and Cornwall on the Titanic, with the majority from Cornwall. None of the men survived and .
One survivor was Maude Sincock from St Ives who was travelling to Michigan to live with her father, Frank, who had emigrated the previous year and was working for the Quince Mining Company in Houghton.
She spent her 21st birthday on board the rescue ship Carpathia, from where she wrote a letter to her mother, who had remained in Cornwall, saying she had been "thrown" into a lifeboat wearing just her nightdress and boots.
"I am frightened to death nearly, and I am afraid I shall catch my death of cold by the time I get to Hancock," the letter said.
After arriving in Michigan, Maude recounted Titanic's sinking and her rescue in various theatres and in later life gave a number of media interviews about it.
She never returned to England but married and settled in Michigan until her death in Houghton in 1984.
A memorial service for the Cornish men and women who were bound for Houghton on the Titanic was held at Houghton library on 2 April.
More than 100 people attended, including 23 descendants of the Titanic's Cornish passengers.
They included relatives of victims Frederick Banfield, a 28-year-old miner from Helston, Joe Nicholls, 19, a miner from St Ives, and Joseph Fillbrook, an 18-year-old painter and decorator from Truro.
There were also descendents of Maude Sincock and 48-year-old Agnes Davies from St Ives and her eight-year-old son John, who all remained in Houghton for the rest of their lives.
The service was arranged by the Keweenaw County Historical Society.
Barb Koski, one of the organisers, said some of the descendants had travelled nearly 2,000 miles to be at the commemoration.
She described the service, which included a bell ringing and candle ceremony, as a moving occasion, which she had been "honoured" to share with the descendants.
"It was heart-warming and overwhelming and I'm not ashamed to say I got choked up a few times," she said.
"All the descendants were so proud to meet each other and share stories of their loved ones - especially those of Fred Banfield and Joseph Fillbrook who were bunk mates on the Titanic."