Egyptian mummy recreated with help of Duchy Hospital CT scan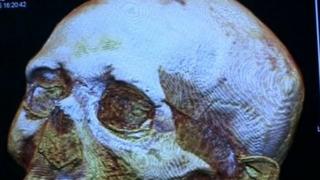 Modern medical technology has been used to help recreate the face of a 2,600-year-old Egyptian mummy for a Cornish museum exhibition.
A CT scan of temple priest Iset Tayef Nakht's mummified head was carried out at Duchy Hospital in Truro.
The images and data will be used by experts in London and Manchester to replicate the priest's face.
It will be displayed in the Royal Cornwall Museum's new gallery in Truro when it opens in June.
The gallery is being created as a permanent "Unwrapping the Past" exhibition to showcase ancient civilisations in Egypt, Greece and Rome.
Visitors will be able to enter an enclosed tomb area holding Iset Tayef Nakht's mummified remains.
'Absolutely amazed'
Jane Marley, the museum's curator of archaeology, said although the museum had some information about the Al Karnack temple priest who lived more than 2,500 years ago, having his face recreated would let people see what he looked like.
"We know that he was aged about 65 from the style of his coffin, his teeth and also the fact that he had arthritis," she said.
"He was about 5ft (1.5m) tall but I think he may have shrunk as he aged and the process of mummification and wrapping may have shrunk him."
The CT scan was undertaken by Duchy Hospital radiographer Sean Plumb, who said he was "absolutely amazed at how life-like the mummy's skull was.
"It's the first time I've ever been asked to scan a mummy of any kind, but the principle's exactly the same," he said.
The mummy was donated to the Royal Institution of Cornwall in 1837.