Burial and cremation fee rise postponed by Cornwall Council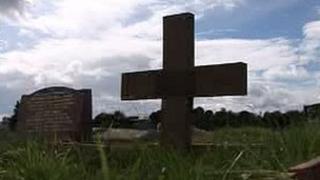 New burial and cremation fees which were to be introduced in Cornwall next month have been put on hold.
Cornwall Council's plan to "standardise" prices across the county would result in charges more than doubling in some areas.
However, following concerns by funeral directors and councillors, the implementation of the new rates on 1 April has been postponed.
The council said it would take time to review the feedback it had received.
'Grossly unfair'
The council said the aim of the cemetery policy was to address the "very different" sets of fees it inherited in 2009 when it took over from the former district councils as a unitary authority.
Under the proposals one of the county's most deprived areas - the former Kerrier district which includes Camborne, Redruth, Helston and Porthleven - would see the biggest increase.
A full body burial in a new grave, which currently costs £614, would rise to £1,305, while the cost of a cremation - where the remains are then buried - would go up from £164 to £650.
The council's new pricing structure was described as "grossly unfair" by one Camborne funeral director who said in a low income county like Cornwall, some families were struggling to afford the existing costs.