Truro Cathedral's interactive film display of 'treasured' items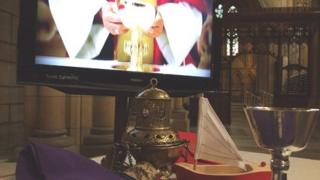 A display revealing the secrets behind some of Truro Cathedral's artefacts is to be the theme of a £10,000 exhibition.
The display will feature a film for each of the 33 objects, which include an incense burner and a silk flower.
The films will explain the use or history of the objects.
Organisers behind the project expect to have a trial version on display after Easter, with the full version installed by the summer holidays.
Visitors start a video by placing an item on to a box which contains a radio-frequency identification (RFID) reader.
RFID chips are attached to the objects and trigger the start of the films.
'Intimidated by computers'
Sarah Hughes, cathedral education officer, said: "We wanted to bring alive as many of the human and physical treasures in the cathedral as we could.
"The films feature volunteers and clergy and historical and architectural information. The items stimulate visitors to want to find out more.
"Many of our elderly volunteers said they would be intimidated by computers so we used artefacts instead of a touch screen - nobody is intimidated by the idea of picking up an object and placing it on a box," she added.
Penzance-based firm Three S Films made the 33 films which are between 15-40 seconds long.
"They will either demonstrate where, how and why that object is used in the cathedral, or how it relates to its history," Ms Hughes added.
She said the project was seeking further funding to make 30 more films which would involve the community, local schools and colleges.
The project is a collaboration between the cathedral, University College Falmouth and Three S Films.
Funding for the project has come from the Claire Milne Trust, the Heritage Lottery Fund, the EU Business Assist Programme, the Friends of Truro Cathedral and the Chapter of Truro Cathedral.