London 2012: Cornwall Olympic torch relay route revealed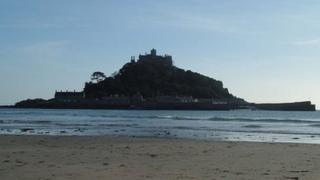 The Olympic torch will pass St Michael's Mount, visit the Eden Project and cross the Tamar Bridge on its journey through Cornwall.
The torch will start at Land's End on 19 May and travel through the county before an overnight stop in Plymouth.
Among the places the flame will pass through are Penzance, Falmouth, Truro, St Austell and Liskeard.
The torch will also take a trip across theEden Project's rainforest biome in a helium balloon.
The flame for the 2012 Olympic Games will arrive in the UK on the Lizard Peninsula in Cornwall.
After being kindled in Olympia, Greece, on 10 May, it isdue to arrive at the Royal Naval Air Station Culdrose, near Helston, on 18 May.
During the 10-week UK relay, the torch will be carried by 8,000 torchbearers and will travel about 8,000 miles across the UK, before the opening ceremony in London.
One of the torchbearers will be Dave Jackson, 61, a volunteer coastguard and station officer at Land's End Coastguard Rescue, from Sennen, Cornwall.
He was nominated by his bosses for more than 40 years' service and his role in helping try and rescue people during the 1981 Union Star and Penlee lifeboat disaster, in which 16 people died, including eight volunteer lifeboat men.
'Don't drop it'
He is part of a team of 12 people on permanent call and also works as supervisor and groundsman at Cornwall's Minack Theatre.
He will run on the relay's first leg, from Land's End to Plymouth on 19 May.
When he found out he would be running with the torch, he told the BBC: "First of all, I thought 'it's a wind up'. You don't expect that sort of thing, do you?
"If it's hot and sunny, it'll be brilliant. Brilliant for Land's End, Sennen and for Cornwall.
"I think it'll be a case of 'don't drop it', that'll be going through my mind quite a bit, 'don't start any fires'.
"It's a great honour to be nominated. I'm born and bred in Cornwall and you can't beat it."
Another torchbearer will be 12-year-old Henry Hocking from Penzance.
He is a pupil at Mounts Bay Academy and has played hockey for the county in the under 12s team.
London 2012 organiser LOCOG has said the torch will come within 10 miles of 95% of the population.