Falmouth Taser officer suspended from using stun gun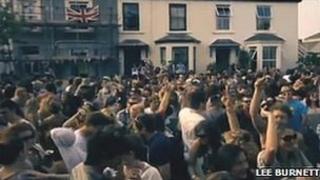 A policeman who Tasered a man at a street party in Cornwall was subsequently suspended from operating the weapon, police have confirmed.
Stefan Naumczyk, then 19, from Falmouth, was shot with the Taser and later cautioned by police for being drunk and disorderly at the party.
He has claimed it was not necessary for police to use the Taser.
The Independent Police Complaints Commission allowed the force to deal with the matter internally.
Devon and Cornwall Police said the officer had now been retrained in the weapon's use.
'Fairly intoxicated'
The royal wedding party, at Malborough Street, Falmouth, which was advertised beforehand on the internet, was attended by about 500 people.
Police were called after complaints from some local residents.
Officers at the time said the Tasering had stopped some incidents at the party from escalating and resulting in public disorder.
Mr Naumczyk denied acting violently towards police, adding that he believed that it was not necessary for the electric stun gun to be deployed.
He admitted being "fairly intoxicated" at the time.
Mr Naumczyk said he was not taking any action over the incident.
The electric stun guns fire up to 50,000 volts into targets to temporarily incapacitate them.