Eden Project holds first World Pasty Championships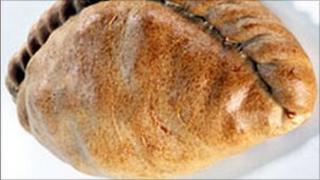 More than 100 cooks from around the world are in Cornwall for the first World Pasty Championships.
The event, at the Eden Project, near St Austell, is celebrating the popular local delicacy, which was given protected status under EU law in 2011.
Entrants have come from as far afield as Australia and the United States.
The pasty has been associated with tin miners in the county and was a part of many people's diets during the 18th Century.
The Oxford English Dictionary suggests it was first identified around 1300.
Families in Cornwall have passed down the recipe for a Cornish pasty through the generations.
Judges will be looking for the best pasty made to the traditional recipe.
The Cornish Pasty Association, which is backing the competition, came up with the "genuine" Cornish pasty recipe as part of its successful Protected Geographical Indication (PGI) application.
It said an authentic pasty should have a distinctive "D" shape and be crimped on one side, never on top.
It added that the filling should be "chunky, made up of uncooked mince or chunks of beef with swede, potato and onion and a light seasoning" before being slow-baked.
Simon King, one of the chefs from the Hairy Bikers TV series, said he was aware how particular people were about the ingredients when he made one.
He said: "There was some pontification on what steak you use. It's very hotly contested".
He also emphasised that "there are no carrots", and that their inclusion was a common mistake made by non-pasty aficionados.
Variations on the pasty taken around the world by expatriates can be found from Australia to California and Mexico.
Separate competitions in the championships, being held on Saturday, looked at alternative recipes hailing from different parts of the world.