Cornwall Council rejects stadium public funds plan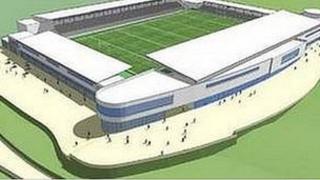 Reports that Cornwall Council will give financial support to a new sports stadium have been rejected.
A confidential council paper is reported to have suggested underwriting the project near Truro with £15m.
The council said that "no public funding will be used for the stadium".
It follows theresignation of deputy Conservative leader Scott Mannafter he claimed the council was considering spending up to £16m on the project and a nearby housing scheme.
He said that was against the policy of the Conservative group on the authority which is currently Conservative-Independent controlled.
Developer Inox has outline planning permission for the 10,000-seat Stadium for Cornwall at Threemilestone.
The Exeter-based firm also wants to build 1,500 houses atLangarth, Threemilestone.
The council paper reportedly suggested spending up to £8m on infrastructure such as roads for the stadium and the housing scheme.
The local authority, which has published theofficial stadium planon its website, said in a statement that no recommendations had been made and the stadium remained a private sector-led project.
It added: "The confidential report considered at last week's meeting of the Environment and Economy Overview and Scrutiny Committee report set out possible options on how the project could be financed.
"The council has not agreed to contribute to the construction costs or fund any specific infrastructure projects relating to the stadium or to act as a guarantor for the project.
"The report was considered in confidential session on the advice of the council's legal team as it contains commercially sensitive information relating to third parties."
The council said discussions were continuing with the key stakeholders, Truro and Penwith College, Inox Group, Cornish Pirates Rugby Football Club and Truro City Football Club on how the project could be funded.
Truro City are set to sell the club's Treyew Road ground to help raise funds for the new stadium, according to chairman Kevin Heaney.
The council has yet to comment on the reports of funding for the housing scheme.