Cornwall Council's Conservative deputy Scott Mann quits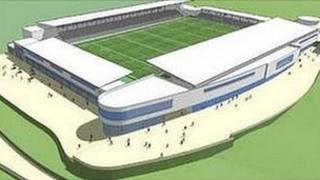 Scott Mann has resigned as deputy leader of the Conservative group on Cornwall Council in a protest over funding for a proposed sports stadium.
He emailed his resignation to leader Alec Robertson, saying a report was being presented to the council asking for up to £16m of funding.
Mr Mann said he was against taxpayer funding for the £24m Stadium for Cornwall at Threemilestone.
Developer Inox has outline planning permission for the 10,000-seat stadium.
The Exeter-based firm also wants to build 1,500 houses at Langarth, Threemilestone.
Mr Mann said in his email: "The Conservative group have made it clear on two separate occasions that no taxpayer funding should be used.
"However a report is now being presented asking for 12-16 million pounds worth of funding.
"I am of the view that the aims and ambitions of the council need to reflect our supported will as a group. It is very apparent that this has not been the case here."
Mr Mann confirmed the content of the email but declined to comment further.
Mr Robertson, who has led the Conservative-Independent coalition since the elections for the new unitary authority in June 2009, declined to make an immediate comment.